Buyers ready to move in as phase one of award-winning residential project in Seychelles is completed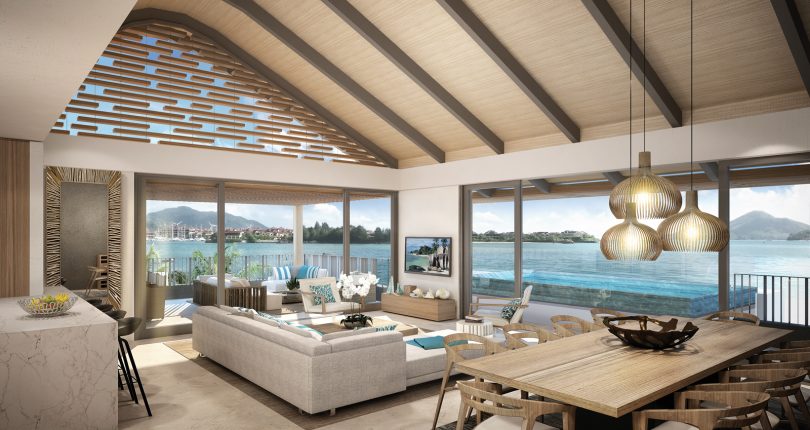 Vincent and Georgia Van Heyste, husband and wife developer team of an award-winning luxury beach-front apartments project, have completed phase one of their venture and will welcome the first residents at the end of November.
Georgia, who has worked with two famous property development companies – Candy & Candy in London, and Kondylis Design in New York –, is furnishing a few of the apartments that will be ready to move in by the end of November.
A former interior designer, Georgia owns together with her husband, Panosco Properties that was established by Georgia's father Panos Papakokinos.
During the first stage of constructions, the developers were also able to complete some onsite amenities such as a clubhouse with infinity pool, a gym parking areas and garages.
Vincent said that after the completion of phase one, the pace of sale has dramatically increased. This is due to potential buyers seeing the complete building and knowing the end date of the project. It gives them comfort.
The initial project of Pangia Beach was planned with 33 units, including a mix of one to three-bedroom apartments and penthouses that would be spread over four blocks. There are only ten apartments and three penthouses still available. Prices range from $460,000 for a one-bedroom apartment to $2.65 million for a penthouse.
Panosco Properties wanted buyers to experience the real feel of Pangia Beach and in June this year opened a four-bedroom show apartment that just like the others, offers incredible views of the ocean and mountains of Seychelles.
All the apartments of the complex are fitted with modern and state of the art appliances to provide buyers with the highest quality of comfort.

New Property tax for foreign buyers
Next July, the government of Seychelles will introduce a tax on foreign owned properties. According to Vincent, since most of the buyers of Pangia Beach are foreigners, the 0.25 per cent tax on the property value, might influence their decision of purchase.

Pangia Beach as investment
Pangia, whose name represents the first three letters in Panos and the last three in Georgia, won the Best Residential Development in Africa.
A South African architectural firm designed the project, and Laxmanbhai, a construction company with over 37 years' experience built it.
Vincent said that they are definitely on track to build a successful project and the fact that him and his wife will also be living at Pangia Beach, gives the buyers a lot of confidence.