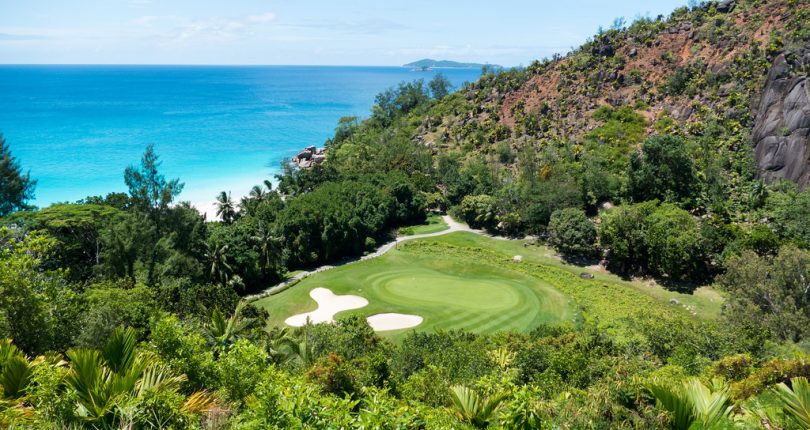 Tourists' attention is shifting to golf holidays in Seychelles. The island nation is popular for its magnificent beaches and turquoise colored ocean waters.
Seychelles archipelago has two major golf courses located on different Islands. One is on the main Mahe Island while the other golf course lies on Praslin, the second most populated Island. Both the Mahe and Praslin golf courses offer challenges for all levels to golfers.
The Seychelles Golf Club is located at Anse Aux Pins, South- Eastern side of Mahe, the main Island in the country. The golf course has nine holes and covers 4,992 yards. It was built on an old coconut plantation almost 40 years ago. The golf course is only a 10-minute drive from Seychelles International Airport at Point Larue. It is quite beautiful, surrounded by luxuriant green hills and it's the only one in Mahe Island.
Seychelles Golf Club opens daily from 8 in the morning and offers various facilities to visitors and players. It has a cafeteria restaurant serving fast foods, snacks and full meals, pool table and a clubhouse containing a bar with DSTV cable channels. The club also has a swimming pool and tennis courts. All visitors are usually welcome to the club to participate in competitions that are sponsored. The contact person for interested visitors is William Weidner, the Club Professional on +248 273 3021. One can also contact the Club Manager, Godefroy Andrade on +248 437 6234. The golf club's website is http://www.sgc.sc/.
The Lemuria Golf Course located on the second most populated island of Praslin is the largest in Seychelles. It boasts as the only golf course with 18 holes in all the 155 islands in Indian Ocean archipelago located on far end of the country. It was built by an architect named Rodney Wright at the Constance Lemuria Hotel back in 2002.
The golf course has won several World Travel Awards as the leading golf resort in both Seychelles and along the whole of Indian Ocean since it was opened. It is also described as one of the most challenging courses featuring six holes going up the hills. The course has a clear blue sea view of Indian Ocean and is surrounded by coconut trees dotted with ponds and endless green well- kept grass. CNN International ranked it among top 10 best 18- holes golf courses throughout Africa back in 2013.
The beautiful golfing paradise presents a tough challenge to golfers at any level due to the wide fairways, water hazards and elevated tees. Use of the golf's baggy is usually charged and is mandatory. The management also offers professional lessons to interested clients.