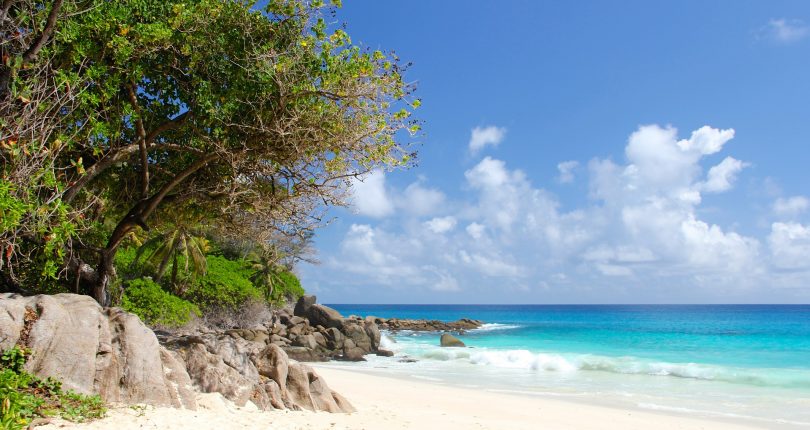 Seychelles visitor arrivals set a new highest record in 2017 surpassing earlier predictions made by the Seychelles Tourism Board. The board reported nearly 350,000 total visitor arrivals into the country last year.
Sherin Francis the chief executive of the board revealed that they had predicted only 8 percent increase of foreigner arrivals in the country at beginning of 2017. However, according to figures acquired from the National Bureau of Statistics, there was a 15 percent increase from the figures in 2016. A total of 349,861 visitors came into the country in 2017 while only 303,177 visitors were recorded back in 2016.
Increase in a number of visitors coming into the country was largely facilitated by the increased number of flights coming into the country. Visitors from Germany topped the list recording more than 50,000 arrivals. Francis noted that the new numbers were a great motivation for all stakeholders in the country.  She said that not only the tourism board but also other sectors should work hard to make 2018 even better. Francis attributed the growth to an increased number of airlift seats while also crediting the airline's help in marketing.
Seychelles welcomed Australian Airlines which was the third airline to offer direct non- stop flight services between Seychelles and Europe. Other direct flights destinations were Frankfurt and Paris. The chief executive also credited the successful cooperation between the tourism board and their partners. She said that this relation facilitated proper organization of more projects and activities for visitors which led to growth.
The growth witnessed was despite a fall in China visitor arrivals which was the largest market drop in 2017. China visitors dropped to 18 percent at 11,710 in 2017 from 14,194 total visitors recorded in 2016. Leading markets were Germany, United Arab Emirates, and France. The board's director Edith Hunzinger said that they did not notice any difference in Dusseldorf market visitor arrivals. This was despite Air Seychelles canceling its flights to Dusseldorf. She, however, was keen to note that Condor had reintroduced its winter flights to Seychelles during the board's end-year marketing meeting.
The board predicted a 10 percent increase for 2018. Visitor arrivals from Europe rose by 15 percent in 2017 with all its markets recording a positive rise except France.
Barbara Fock- Tave who has self-catering apartments at Bel Ombre in Northwest of Mahe Island said that demands in 2017 had surpassed her initial expectations. The owner of Surfers Cove said that the apartments were fully occupied throughout 2017 with visitors, especially from Germany. Other clients were from Russia, Turkey, United Arabs Emirates and China. She said that 2017 had been a good year for her in the hospitality sector.
Francis revealed that the board has predicted an 8 – 10 percent increase in total visitor arrivals for 2018. She also pointed out that growth in tourism sector was vital as it is the top pillar of the country's economy.